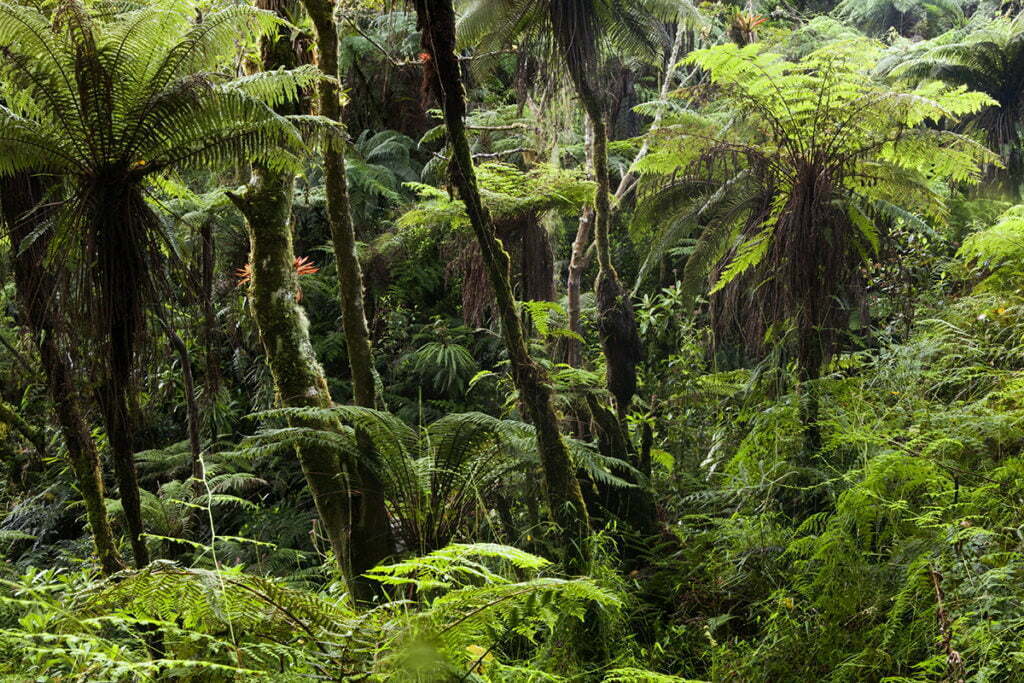 (Spanish and French version below)
Preamble
Considering that the life that appeared on our planet billions of years ago is one and indivisible.
Considering that all organisms and living beings have a common origin and have become differentiated in the course of evolution.
Considering that any organism or living being has natural rights and that every plant and animal ecosystem has special rights.
Considering that the contempt, even the simple ignorance of these natural rights causes serious attacks on the biological balance of the forest ecosystems essential for life and lead man to commit crimes against the forest and the forest life that it shelters.
Considering that the coexistence of species in the world implies the recognition by humans of the right to existence of other animal and plant species.
Considering that the forest plays an irreplaceable role in the carbon cycle by producing the essential oxygen for life.
Considering that a world without forests is a world without a future.
Considering the right to life and the preservation of nature for future generations.
Considering that respect for the forest by human beings is inseparable from respect for human beings among themselves.
In order to have a date with history, it is universally stated the following:
Article 1
All forests as specific biological ecosystems have equal rights to existence, respect and protection within the framework of global biological balances. This equality in no way overshadows the diversity of forests.
Article 2
All forest life is entitled to the respect and protection of human beings, States and International Organizations.
Article 3
No forest shall be subjected to abusive or destructive exploitation.
If the exploitation of a forest is deemed necessary, it must be conducted under the supervision of scientists whose competence in their discipline is recognized and carried out by qualified professionals with adequate legal authorizations.
The forest must be treated with awareness of its importance for the survival of the global ecosystem of which humans, animals and plants are a part.
Article 4
The natural forest has the right to respect for its environment and to exist and reproduce without human intervention, except where scientific purposes are aimed at its knowledge or protection.
The infringement of this freedom by deforestation, cutting or burning, but also by hunting, fishing, hiking or any form of sports and recreation, as well as any other use for purposes other than vital, are contrary to this right.
Article 5
The forest that man cultivates and exploits must have the same rights as the natural forest, i.e. respect, protection and appropriate and attentive care provided by competent human organizations empowered to do so by legal State or private institutions.
Under no circumstances shall it be left fallow or unjustifiably destroyed.
All forms of forest cultivation and exploitation shall respect the physiology and characteristics of the biotopes of the variety of its species.
All forms of communication concerning the forest must respect the rights pertaining to it and must not involve any violation of these rights.
Article 6

Scientific research and experimentation on the forest and forest life involving physiological, physical or psychological suffering violates the rights of plants and forest life.
Alternative methods must be developed and systematically implemented according to the state of the art.
Article 7
Any act involving, without legal necessity, the destruction of all or part of a domestic or natural forest and any decision leading to such an act constitutes a crime against life.
Article 8
Any act compromising the survival of a forest or the survival of the living species of which it is the biotope, and any decision leading to such an act, constitutes forest genocide, i.e. a crime against the genome and thus the universal right to life.
Uncontrolled deforestation, destruction of forest life, pollution and destruction of biotopes are genocide in the legal sense of the term
Article 9
The legal personality of the forest integrating forest life, i.e. the indigenous human beings, plant and animal species in their entirety living there and their rights must be recognized by the law of nation states and the regulations of international organizations.
The defense and safeguarding of responsible and sustainable forestry and natural forests must have representatives in the state bodies of nations.
Article 10
Education and public instruction shall lead human beings, from childhood, to observe, understand and respect the forest and domestic or natural forest life.
Article 11
Any natural person or legal entity in possession of all its faculties is entitled to initiate any proceedings it deems useful before the civil or public court of its choice to denounce facts or practices of a criminal nature with regard to the proclamations of the present Universal Declaration of the Rights of the Forest and the Forest Life.
Proclaimed in Port-au-Prince, by the SOCIÉTÉ AUDUBON HAITI and HAITI NATIONAL TRUST on the first of June of the year 2020 of our era (I.VI.MMXX) to contribute to the safeguarding and future of the natural and domestic woodland heritage of humanity. In addition to his research and conservation work in Haiti, Hedges has collaborated with the Philadelphia Zoo to keep alive and/or captively breed the most endangered frog species still found in the country.
---
DECLARACIÓN UNIVERSAL DE LOS DERECHOS DEL BOSQUE Y LA VIDA SILVESTRE
Preámbulo
Considerando que la vida que apareció en nuestro planeta hace miles de millones de años es una e indivisible.
Considerando que todos los organismos y seres vivos tienen un origen común y se han diferenciado durante la evolución.
Considerando que cualquier organismo o ser vivo tiene derechos naturales y que cada ecosistema de plantas y animales tiene derechos especiales.
Considerando que el desdén, incluso la simple ignorancia de estos derechos naturales, causa graves daños al equilibrio biológico de los ecosistemas forestales esenciales para la vida y lleva al hombre a cometer crímenes contra el bosque y la vida forestal que alberga.
Considerando que la coexistencia de especies en el mundo implica el reconocimiento por parte de la especie humana del derecho a la existencia de otras especies animales y vegetales.
Considerando que el bosque juega un papel irremplazable en el ciclo del carbono produciendo el oxígeno esencial para la vida.
Considerando que un mundo sin bosques es un mundo sin futuro.
Considerando el derecho a la vida y la preservación de la naturaleza de las generaciones futuras.
Considerando que el respeto del bosque por el ser humano es inseparable del respeto de los seres humanos entre ellos.
Se declara universalmente que lo siguiente es un hito con la historia:
Artículo 1
Todos los bosques, como ecosistemas biológicos específicos, tienen los mismos derechos a la existencia, respeto y protección en el marco de los equilibrios biológicos mundiales. Esta igualdad no eclipsa de ninguna manera la diversidad de los bosques.
Artículo 2
Toda la vida forestal tiene derecho a ser respetada y protegida por los seres humanos, los Estados y las Organizaciones Internacionales.
Artículo 3
Ningún bosque será objeto de explotación abusiva o destructiva.
Si se considera necesaria la explotación de un bosque, ésta se llevará a cabo bajo el control de científicos de reconocida competencia en su disciplina y por profesionales cualificados con las autorizaciones legales apropiadas.
El bosque debe ser tratado con conciencia de su importancia para la supervivencia del ecosistema mundial del que forman parte los seres humanos, los animales y las plantas.
Artículo 4
El bosque natural tiene derecho a respetar su medio ambiente, a existir y reproducirse sin intervención humana, excepto cuando los fines científicos estén dirigidos a su conocimiento o protección.
La violación de esta libertad mediante la deforestación, la tala o la quema, pero también mediante la caza, la pesca, el excursionismo o cualquier forma de deporte y recreación, así como cualquier otro uso para fines que no sean los vitales, es contraria a este derecho.
Artículo 5
El bosque que el hombre cultiva y explota debe tener los mismos derechos que el bosque natural, es decir, el respeto, la protección y el cuidado apropiado y atento de las organizaciones humanas competentes facultadas para ello por el Estado legal o las instituciones privadas.
Bajo ninguna circunstancia se dejará en barbecho o se destruirá injustificadamente.
Todas las formas de cultivo y explotación forestal deberán respetar la fisiología y las características de los biotopos de la variedad de sus especies.
Todas las formas de comunicación relativas al bosque deben respetar los derechos que le corresponden y no deben implicar ninguna violación de estos derechos.
Artículo 6
La investigación y la experimentación científicas sobre el bosque y la vida forestal que impliquen sufrimientos fisiológicos, físicos o psíquicos violan los derechos de las plantas y la vida forestal.
Se deben desarrollar y aplicar sistemáticamente métodos alternativos de acuerdo con el estado de la técnica.
Artículo 7
Todo acto que implique, sin necesidad legal, la destrucción de todo o parte de un bosque doméstico o natural y toda decisión que lleve a tal acto constituye un delito contra la vida.
Artículo 8
Todo acto que comprometa la supervivencia de un bosque o la supervivencia de las especies vivas de las que es el biotopo, y toda decisión que conduzca a tal acto, constituye un genocidio de los bosques, es decir, un crimen contra el genoma y, por tanto, el derecho universal a la vida.
La deforestación incontrolada, la destrucción de la vida forestal, la contaminación y la destrucción de biotopos son un genocidio en el sentido jurídico del término.
Artículo 9
La personalidad jurídica del bosque que integra la vida forestal, es decir, los seres humanos, las especies vegetales y animales autóctonas en su totalidad que viven en él y sus derechos deben ser reconocidos por la legislación de los Estados nacionales y los reglamentos de las organizaciones internacionales.
La defensa y salvaguardia de la silvicultura responsable y sostenible y de los bosques naturales debe tener representantes en los órganos estatales de las naciones.
Artículo 10
La educación y la instrucción pública llevarán a los seres humanos, desde la infancia, a observar, comprender y respetar el bosque y la vida forestal doméstica o natural.
Artículo 11
Toda persona física o jurídica, en posesión de todas sus facultades, tiene derecho a iniciar cualquier procedimiento que considere útil ante el tribunal civil o público de su elección para denunciar hechos o prácticas de carácter delictivo en relación con las proclamaciones de la presente Declaración Universal de los Derechos del Bosque y la Vida Silvestre.
Proclamado en Puerto Príncipe, por la SOCIÉTÉ AUDUBON HAÏTI y HAITI NATIONAL TRUST, el primero de junio del año 2020 de nuestra era (I.VI.MMXX) para contribuir a la salvaguarda y al futuro del patrimonio forestal natural y doméstico de la humanidad.
Société Audubon Haití
Haiti National Trust
05/06/2020
---
DÉCLARATION UNIVERSELLE DES DROITS DE LA FORÊT ET DE LA VIE SYLVESTRE
Préambule
Considérant que la vie qui est apparue sur notre planète il y a des milliards d'années est une et indivisible.
Considérant que tous les organismes et les êtres vivants ont une origine commune et se sont différenciés au cours de l'évolution.
Considérant que tout organisme ou être vivant possède des droits naturels et que tout écosystème végétal et animal possède des droits particuliers.
Considérant que le mépris, voire la simple méconnaissance de ces droits naturels provoquent de graves atteintes à l'équilibre biologique des écosystèmes forestiers indispensables à la vie et conduisent l'homme à commettre des crimes envers la forêt et la vie sylvestre qu'elle abrite.
Considérant que la coexistence des espèces dans le monde implique la reconnaissance par l'espèce humaine du droit à l'existence des autres espèces animales et végétales.
Considérant que la forêt joue un rôle irremplaçable dans le cycle du carbone en produisant l'oxygène indispensable à la vie.
Considérant qu'un monde sans forêt est un monde sans avenir.
Considérant le droit à la vie et à la préservation de la nature des générations futures.
Considérant que le respect de la forêt par l'être humain est inséparable du respect des êtres humains entre eux.
Il est universellement déclaré ce qui suit afin de prendre date avec l'histoire:
Article premier
Toutes les forêts en tant qu'écosystèmes biologiques spécifiques ont des droits égaux à l'existence, au respect et à la protection dans le cadre des équilibres biologiques globaux. Cette égalité n'occulte en rien la diversité des forêts.
Article 2
Toute vie forestière a droit au respect et à la protection des êtres humains, des Etats et des Organisations Internationales.
Article 3
Aucune forêt ne doit être soumise à une exploitation abusive ou destructrice.
Si l'exploitation d'une forêt est jugée nécessaire, elle doit être conduite sous le contrôle de scientifiques, dont la compétence dans leur discipline est reconnue, et effectuée par des professionnels qualifiés, munis des autorisations légales adéquates.
La forêt doit être traitée avec conscience de son importance pour la survie de l'écosystème planétaire dont les êtres humains, les animaux et les plantes font partie.
Article 4
La forêt naturelle a le droit au respect de son milieu, de celui d'y exister et de s'y reproduire sans l'intervention de l'homme, sauf en cas de buts scientifiques visant à sa connaissance ou à sa protection.
L'atteinte à cette liberté par la déforestation, par la coupe ou le brulis mais aussi par la chasse, la pêche, la randonnée ou toute forme de sports et de loisirs, ainsi que toute autre utilisation à d'autres fins que vitales, sont contraires à ce droit.
Article 5
La forêt que l'homme cultive et exploite doit avoir les mêmes droits que la forêt naturelle c'est-à-dire le respect, la protection et des soins appropriés et attentifs dispensés par des organisations humaines compétentes habilitées à le faire par des institutions légales étatiques ou privées.
Elle ne doit en aucun cas être laissée en friche ou détruite de manière injustifiée.
Toutes les formes de culture et d'exploitation forestières doivent respecter la physiologie et les caractéristiques des biotopes propres à la variété de ses espèces.
Toute forme de communication concernant la forêt doit respecter les droits qui y sont afférents et ne comporter aucune violation de ces droits.
Article 6
La recherche et l'expérimentation scientifique sur la forêt et la vie sylvestre impliquant une souffrance physiologique, physique ou psychique viole les droits des végétaux et de la vie sylvestre.
Les méthodes de remplacement doivent être développées et systématiquement mises en oeuvre en fonction de l'état de l'art.
Article 7
Tout acte impliquant, sans nécessité légale, la destruction de tout ou partie d'une forêt domestique ou naturelle et toute décision conduisant à un tel acte constituent un crime contre la vie.
Article 8
Tout acte compromettant la pérennité d'une forêt ou la survie des espèces vivantes dont elle constitue le biotope, et toute décision conduisant à un tel acte constituent un génocide sylvestre, c'est à dire un crime contre le génome et donc le droit universel à la vie.
La déforestation incontrôlée, la destruction de la vie sylvestre, la pollution et la destruction des biotopes sont des génocides au sens légal de ce terme.
Article 9
La personnalité juridique de la forêt intégrant la vie sylvestre, c'est-à-dire les êtres humains indigènes, les espèces végétales et animales dans leur intégralité qui y vivent et leurs droits doivent être reconnus par la loi des Etats nation et les règlementations des organismes internationaux.
La défense et la sauvegarde de l'exploitation forestière responsable et durable et de la forêt naturelle doivent avoir des représentants au sein des organismes étatiques des nations.
Article 10
L'éducation et l'instruction publique doivent conduire les êtres humains, dès leur enfance, à observer, à comprendre, et à respecter la forêt et la vie sylvestre domestique ou naturelle.
Article 11
Toute personne physique ou morale en possession de toutes ses facultés est en droit d'engager toute procédure qu'elle estimerait utile devant le tribunal civil ou public de son choix pour dénoncer des faits ou des pratiques de nature criminelle au regard des proclamations de la présente Déclaration Universelle des Droits de la Forêt et de la Vie Sylvestre.
Proclamé à Port-au-Prince, par SOCIETE AUDUBON HAÏTI et HAITI NATIONAL TRUST, le premier juin de l'an 2020 de notre ère (I.VI.MMXX) pour contribuer à la sauvegarde et à l'avenir du patrimoine sylvestre naturel et domestique de l'humanité.