Haiti National Trust, at the forefront of Haiti's conservation efforts, proudly celebrates a significant milestone: the empowerment of women within the heart of the Grand Bois National Park.
Our organization consistently maintains a workforce composed of 40% women in our restoration and conservation activities, a testament to the profound impact women have on nurturing the park's native biodiversity through dedicated nursery maintenance—an essential component of our reforestation initiatives.
In a country where women are often the primary household caregivers, providing gainful employment opportunities holds profound significance. This empowerment extends far beyond the boundaries of conservation, as it transforms lives within our local communities.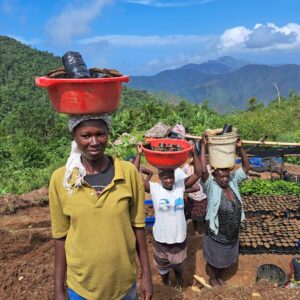 This year, our mission to empower women gained even more resonance due to the lack of rain. This climatic challenge caused subsistence gardens to yield very little, intensifying the importance of the additional revenue generated by the women on our team. For these women, this income infusion is not just about livelihood—it's about hope. It provides assurance and resilience for the uncertain months that lie ahead.
In the words of Ms. Julianne Jeune, a dedicated member of the Haiti National Trust team, "Working with Haiti National Trust has been transformative. I've had the privilege to contribute to the preservation of our park while supporting my family economically. In these times of uncertainty, it's not just income; it's hope for a better tomorrow."
As we look forward, Haiti National Trust reaffirms its commitment to gender balance. Our goal is to create a workforce where both genders are equally represented. This commitment underscores our dedication to fostering an inclusive environment where everyone, regardless of gender, can thrive and make a lasting impact on the environment and their communities.
Our dedication to empowering women within the workforce is a testament to the indispensable role women play in conservation and the holistic development of Haiti. By enabling women and championing gender diversity, the organization is not only renewing the splendor of Grand Bois National Park but also propelling the empowerment of families and communities throughout the region. Haiti National Trust invites fellow organizations to join hands in creating a brighter, more equitable future for all. Together, we celebrate our achievements, and we embark on a journey of continued progress and hope.