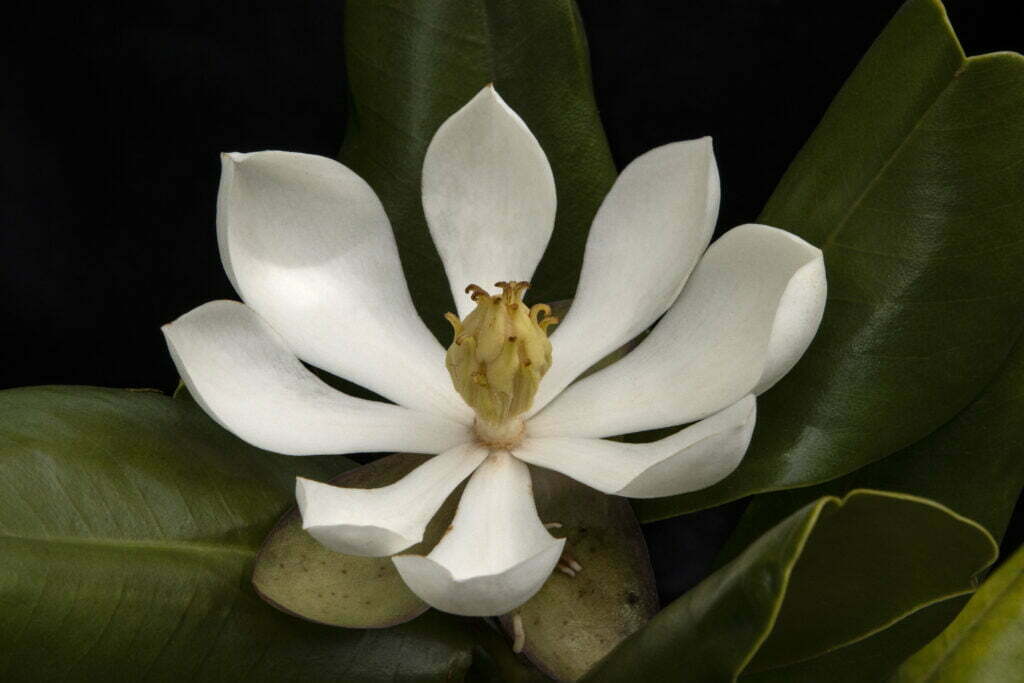 An expedition team in northern Haiti has rediscovered a magnolia tree that has been lost to science for 97 years. The team used the tree's telltale features to find it: beautiful alabaster flowers and uniquely shaped glossy emerald leaves. In a country stricken with widespread habitat destruction, this rediscovery has given conservationists hope that Haiti's montane forests can be rewilded.
"The chances of finding this tree were one in a million considering that so few of Haiti's forests remain," said Eladio Fernandez, who led the expedition and is the communications director for Haiti National Trust. "This rediscovery serves as a beacon of hope for the biodiversity of Haiti. Despite the bleak state of the country's degraded forests, it still harbors species like this that are found nowhere else in the world, giving us the opportunity to save them."
The northern Haiti magnolia (Magnolia emarginata) has been missing since scientists first discovered it in 1925, and is considered critically endangered according to the IUCN Red List of Threatened Species. Nearly 100 years later, the forest in which the northern Haiti magnolia was originally discovered, Morne Colombo, has been destroyed. Across the country, very little forested habitat remainsas the result of deforestation for building materials, slash-and-burn agriculture, and charcoal production, leaving many native plants to grow at the very tops of mountains and down steep ravines that are difficult to reach. These isolated patches of forest are rapidly declining and are often so remote that even locals may not be familiar with the wildlife found there.
Hispaniola is home to five known endemic magnolia species, all of which are considered critically endangered and restricted to the wet mountainous forests over 2,200 feet (700 meters) above sea level. Two of these native magnolias grow in the Dominican Republic, ebano verde (Magnolia pallescens) and tabacón (Magnolia hamorii). Guaconejo (Magnolia domingensis) is found in both the Dominican Republic and Haiti, and zabriko mawon (Magnolia ekmanii), as it is known locally in Haitian Creole, is found in southern Haiti. 
After consulting herbarium records, the team decided to search for the northern Haiti magnolia in mid-June when the flowers are in bloom, making the tree easier to identify against the canopy, and increasing the chances of rediscovery. The five-person team finally set out on its multi-day expedition on June 15, after multiple postponements due to travel restrictions and safety concerns about Haiti's social unrest.
For three days the team focused its search on the mountains of Massif du Nord, where they thought there would be suitable elevated habitat for the magnolia, close to the destroyed forest where the species was discovered. They also suspected that this lost magnolia species may have been growing in dense mountainside forests, making it especially challenging to document and study.
The mountainous terrain limited the search and exhausted the team. After a downpour that nearly halted their day's trek, the team caught the glimpse of a flowering tree with uniquely shaped leaves. There the team took the first-ever photos of this magnolia species and, with help from a local host family, collected herbarium samples and tissue for DNA analysis from this lost species.
The researchers were able to identify 16 adult northern Haiti magnolia trees with flowers in various stages of growth in an isolated forested ravine and are confident that more remain in the area. The team also found juvenile magnolias, standing less than one meter tall, giving them hope for a viable population of this once-lost species.
Haiti National Trust is now planning a seed collection trip in the late fall to begin a conservation program for the tree. They plan to draw on knowledge from the successful cultivation of the other four magnolia species from elsewhere across Hispaniola to start a nursery and begin restoration efforts with local communities.
"This rediscovery energizes our efforts to rewild Haiti," says Anne-Isabelle Bonifassi, executive director of Haiti National Trust. "We've been working hard in Haiti's Grand Bois to rewild the forests there, including Haiti's other endemic magnolia species, and we are excited to apply that work to help us preserve another beautiful and iconic magnolia."
Re:wild and Haiti National Trust have been working to rewild the southern tip of Haiti, focusing on the Grand Bois ecosystem and creating Haiti's first-ever private reserve. This is a part of Re:wild's broader work to protect and restore Caribbean islands.
"It is a miracle that the northern Haiti magnolia has dodged widespread deforestation throughout Haiti," said Jenny Daltry, Caribbean alliance director, for Re:wild, which coordinates the Search for Lost Species program, the largest-ever quest to find and protect lost species. "Biodiversity loss is a serious threat to people and the environment all over the Caribbean region. That's why Re:wild and Fauna & Flora International have combined forces to raise awareness and support to protect and restore Caribbean Islands—including Hispaniola."
This project was made possible in part by the generous support of Asociación Popular de Ahorros y Prestamos (APAP), Fundación Progressio, and Sunrise Airways.

Re:wild Re:wild protects and restores the wild. We have a singular and powerful focus: the wild as the most effective solution to the interconnected climate, biodiversity and human health crises. Founded by a group of renowned conservation scientists together with Leonardo DiCaprio, Re:wild is a force multiplier that brings together Indigenous peoples, local communities, influential leaders, nongovernmental organizations, governments, companies and the public to protect and rewild at the scale and speed we need. Learn more at rewild.org.
Haiti National Trust  Haiti National Trust is a private, non-profit organization in Haiti to save and protect native ecosystems for future generations. We are the lead organization that acquires land to conserve natural habitats and the rich endemic biodiversity of Haiti. We establish protective measures, restore degraded lands and partner with local communities by providing education and assistance to develop sustainable livelihoods and improve their wellbeing.  Learn more at haititrust.org.